Jose Diaz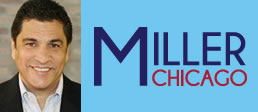 Contact Information
Jose is a native Chicagoan who lives and breathes the city daily. His passion for real estate originated from his true love of his hometown, and his specialties can be found in some of his favorite areas around town--Humboldt Park, Logan Square, West Loop and the Gold Coast. He appreciates the culture and liveliness of our great city, and enjoys real estate because it allows people's dreams to become reality. He likes constantly talking to and meeting new people, and loves the fast-paced aspect of the market.
Jose attended the Chicago Association of Realtors program and received his license in 2004. After working in food processing and distribution, he started in the business following the sale of his restaurant in Humboldt Park. Utilizing his food industry background, he specializes in industrial properties, cold storage facilities and restaurants. Some of Jose's top achievements include closing on both a 600,000 square foot cold storage warehouse, and the building that now houses Chicago's renowned restaurant Girl and the Goat.
His future goals include becoming a developer and to one day build a high-rise. Jose is fluent in Spanish.