Chris Pezza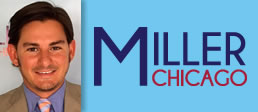 Contact Information
Chris has been dialed in at the highest level of Commercial Real Estate for over ten years. He obtained his Real Estate license while still in college and worked a full time job for Prudential Commercial Real Estate while taking classes. After five years with Prudential as the Underwriting Manager and Commercial Broker, Chris moved back to Chicago and joined Rockwell Partners, LLC and helped grow this boutique property management company from 500 units to over 2,000. He had various roles with Rockwell including a Regional Asset Manager and the Leasing Manager.
Chris's experience includes: • Brokerage services on over $130mil in closed transactions ranging from Multi-family, Mixed-Use, Manufactured Housing Communities, Self-Storage Facilities and Vacant Land • Property Management on over 2,500 rental units including residential, commercial, office and manufactured housing communities • Underwriting services on over 20,000 rental units • Due Diligence services on over 5,000 rental units • Personal ownership of a student housing portfolio in Normal, Illinois and several mixeduse buildings in Chicago, IL
This hands-on experience in every aspect of real estate has afforded Chris industry knowledge well beyond his years and re-affirmed his goal of making every transaction mutually beneficial to each party involved. In 2015, the Chicago Association of Realtors elected Chris to its Board of Directors. He also serves as the Vice Chair of the Property Management Forum as a leader in the industry.
Chris recently began graduate school seeking his Masters of Real Estate from the Marshall Bennett Institute. He also has a degree in Finance from Illinois Wesleyan University. In his spare time, he plays in some of the most competitive Chicago Softball money leagues and tournaments. He also dedicates his time to charities such as Children International, Autism Speaks, Opportunity Knocks, and Misericordia.